Sunday Supper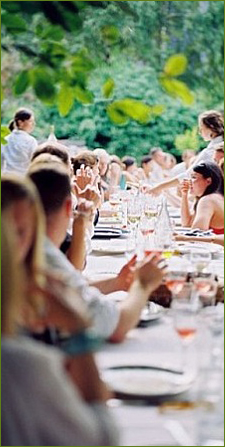 A Southern Tradition Comes Full Circle with Sunday Suppers
As today's culinary preferences migrate back toward real foods that actually nourish our bodies, the social aspect of food is seeing a revolution as well, or more aptly, a "devolution."  The increasingly popular "slow food" movement is seen as a new trend by many all the while being a deep rooted memory for most southern families.  
For many Southern families, Sunday Suppers were a special time for family, friends and neighbors.  It was no different in Elizabeth's family, when after church their laconic, slow-paced Sunday afternoon began with her grandparents' table laden with foods they raised, caught or canned.  Today, we are seeing a welcome return to those "roots," and farm-to-table dinners are now a part of the very fabric of the nouvelle restaurant scene, as we are now more concerned than ever about what we eat and how it is grown.  Like an heirloom, Sunday Suppers are valued with greater significance when handed on from generation to generation.
If you miss this Sunday tradition, we invite you to join us for Sunday Supper.  We are currently working with Lake Rabun Pavilion to create these experiences with the freshest foods and top wines.  We will be designing more Sunday Suppers so if you are interested in receiving information on the next event, please contact us.